Kevin B. Mitchell  "The Love Walker"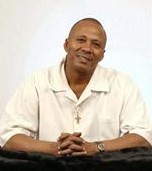 Pastor Kevin B. Mitchell is the Pastor of "Living The Love Walk" ministry, and has been charged to love and serve others.  Pastor Kevin was born in Chicago, Illinois and raised as a catholic.  Through the spiritual program of Alcoholics Anonymous, he began developing a personal relationship with God in 1993.  He counseled recovering alcoholics and began sharing the spiritual message in AA, as he spoke throughout California.
In 1996 while attending New Spirit Church, under the leadership of Pastor Mark A. Williams, Kevin was saved.  He answered his calling to ministry and preached his first sermon in 2000 at Faith Fellowship Bible Church in Corona, California, under Pastor Mark A. Williams.  In 2001 Kevin founded the Renaissance Christian  In-reach Ministry, which birthed "The Gathering."  This teaching ministry started with "The Love Walk  of Jesus Christ" and Kevin put together a spiritual maintenance plan for those who wanted to experience victory in their lives.  The Gathering continues to meet today in Corona, CA.  In 2003, New Jack Fellowship e-mail ministry was birthed and now has 350 members throughout the United States and 5,000 followers on Face book.  Also in 2003 Kevin developed the "Spiritual Soldier's Decree", an inspirational writing used as another spiritual tool for Christians.
Pastor Kevin moved to Corona, CA in 2005 and started "Living The Love Walk" ministry.  Kevin was called and consecrated to pastorship in 2006.  He continues to grow as he teaches the love walk of Jesus Christ throughout the Christian community and God continues to lead him into new territory.  In 2008 Pastor Kevin, led by the Holy Spirit, developed the "Cultivation of the Love Walker" teaching series, which is still the base of his ministry today.  In the summer of 2015, Pastor Kevin launched a local radio show called "Living the Love Walk, It Ain't Easy, Yes It Is!"
Preparing to go into 2017, Pastor Kevin will launch the ministries second internet radio show, "The World According to Christ."  He continues to instill "The Spiritual Maintenance Plan" which keeps us close to God on a daily basis, leads 50 – 75 local ministry members, 350 e-mail ministry members, 5,000 followers on Face book, and has touched and inspired over 6000 souls on a monthly basis through the power of the internet.  Pastor Kevin has a love for ministry and is passionate about connecting people to God.